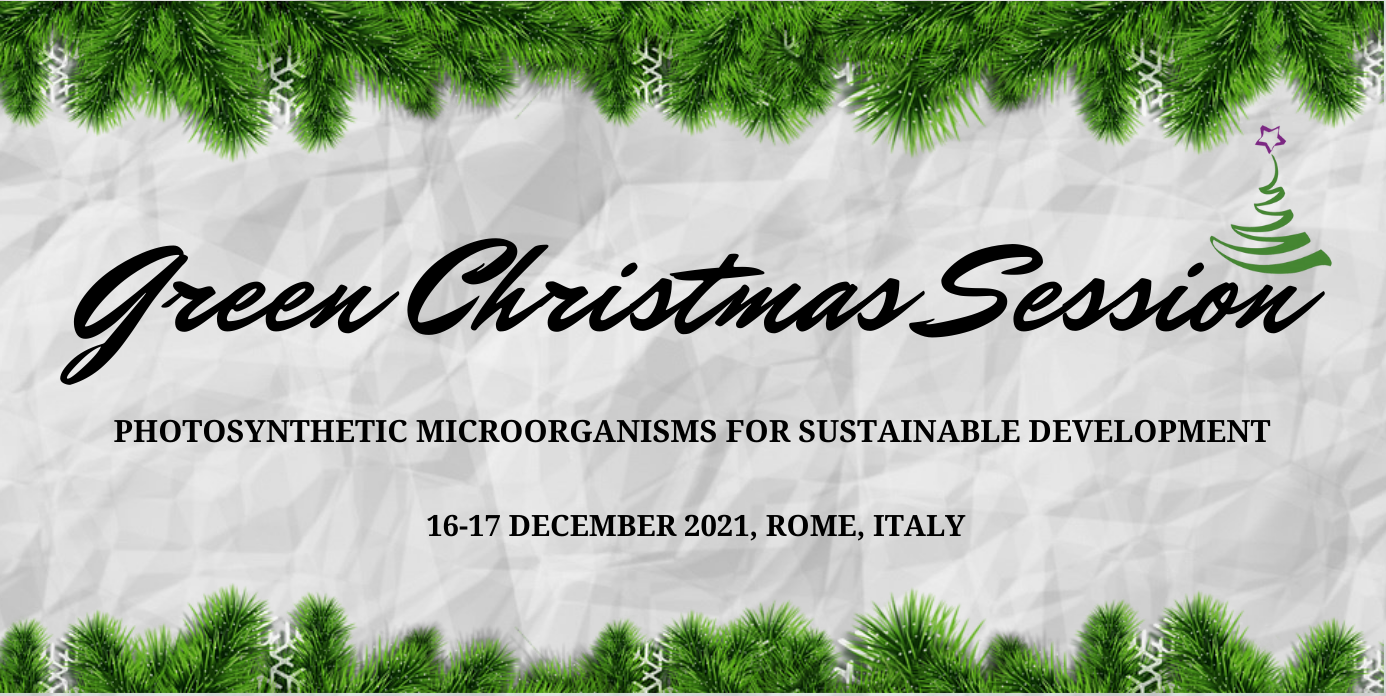 ONLINE CONFERENCE | FREE REGISTRATION

THU Dec 16th 9:10 – 12:50 (CET) | FRI Dec 17th 9:10 – 13:30 (CET)
SELECTED PRESENTATIONS OF LEADING ITALIAN AND RUSSIAN SCHOLARS ON
● GREEN ENERGY ● HIGH-VALUE COMPOUNDS ● SPACE RESEARCH ● SUSTAINABILITY&ENVIRONMENT
Registration deadline 10th December 2021

GCS 2021 Statistics & Feedback & Gallery
Contact us at gcs.org@cnr.it

KEYNOTE SPEAKERS
The international conference Green Christmas Session 2021 "Photosynthetic microorganisms for sustainable development" will be focused on the potential of photosynthetic microorganisms to build up and promote the sustainable development of our society. The conference will highlight the advantages of employing photosynthetic processes and structures in the production of green energy and compounds with high-added value, in space research and environmental protection.
GREEN CHRISTMAS SESSION 2021 TOPICS:
Green energy: light-harvesting, bioelectricity and biofuels
Production of compounds with high-added value
Sustainability and environment
Space research
This virtual gathering will provide an informal occasion to spend some valuable time with friends and fellows discussing the latest trends and advancements in the development of bio-based applications employing photosynthetic microorganisms or photosynthetic elements.
The first edition of Green Christmas Session is keen to deepen the collaboration between the photosynthetic research communities of Italy and the Russian Federation. However, it will bring together scholars, early stage researchers and students from all around the world, providing a valuable platform to expand professional contacts, create new opportunities and establish new collaborations. The format of the conference envisages the participation of preselected Invited Speaker and free attendance for the audience, and foresees time for Q&A after the individual presentations.
The conference will be virtually hosted by the Institute for Biological Systems, CNR.
The participation is free upon registration (mandatory).

SCIENTIFIC COMMITTEE
CHAIR: Maya Dimova Lambreva
Institute for Biological Systems, National Research Council of Italy, Rome, Italy
CO-CHAIR: Maria Borisova-Mubarakshina
Institute of Basic Biological Problems of the Russian Academy of Sciences, Pushchino, Russia
Francesco Milano
Institute of Sciences of Food Production, National Research Council of Italy, Lecce, Italy
Taras K. Antal
Pskov State University, Pskov, Russia
Vasily Terentyev
Institute of Basic Biological Problems of the Russian Academy of Sciences, Pushchino, Russia
Tomas Morosinotto
University of Padova, Padova, Italy
ORGANIZING COMMITTEE
Alessandro Tozzi
Institute for Biological Systems, National Research Council of Italy, Rome, Italy
Giorgio Giardini
Institute for Biological Systems, National Research Council of Italy, Rome, Italy
Giovanni Mele
Institute for Biological Systems, National Research Council of Italy, Rome, Italy
Stefano Tardiola
Institute for Biological Systems, National Research Council of Italy, Rome, Italy


UNDER THE PATRONAGE OF