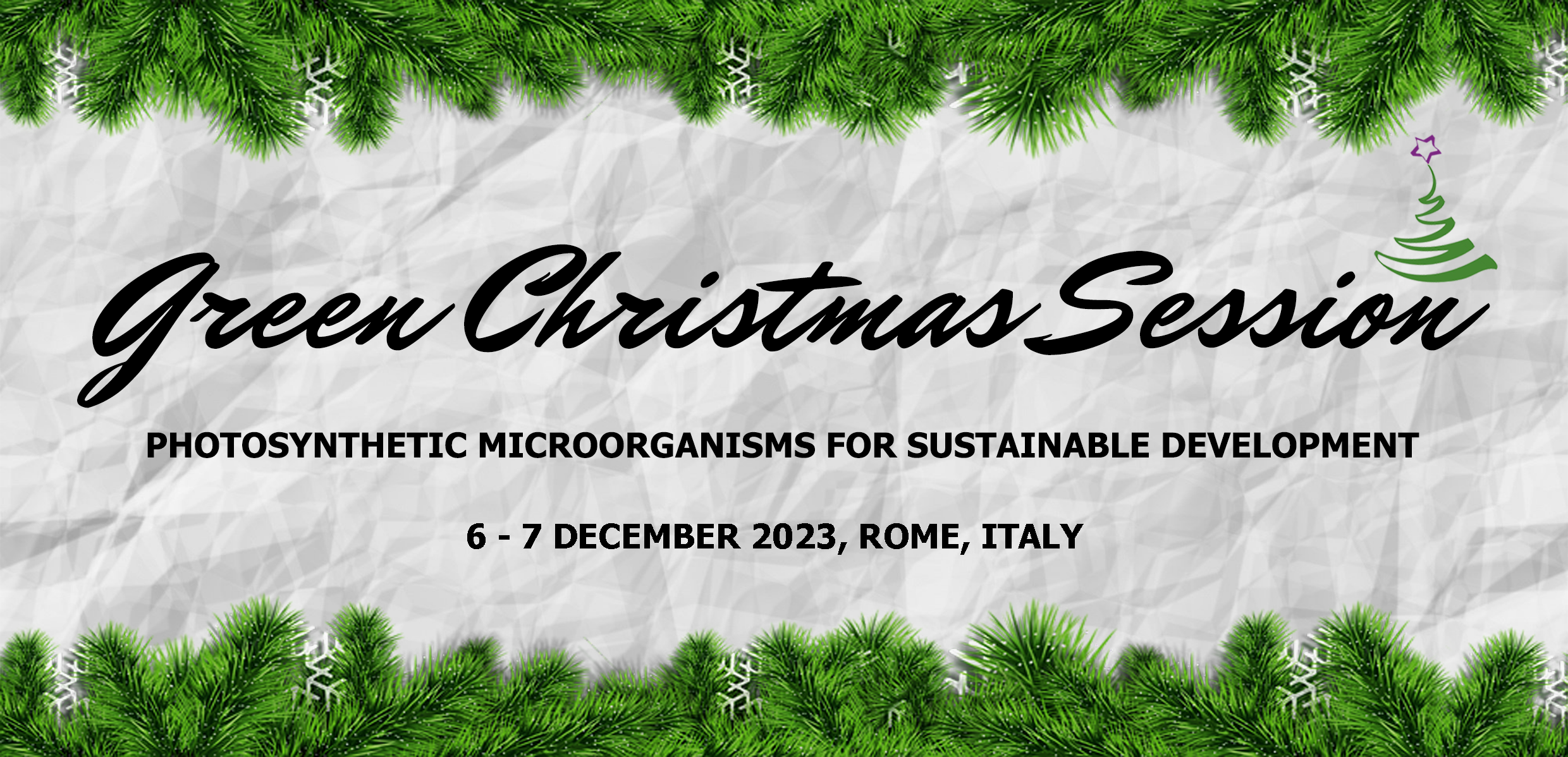 ONLINE CONFERENCE | FREE REGISTRATION

WEDNESDAY Dec 6th 9:00 – 13:30 (CET) | THURSDAY Dec 7th 9:00 – 13:45 (CET)
SELECTED PRESENTATIONS BY LEADING WORLDWIDE SCHOLARS
TOPICS: ● PHOTOSYNTHETIC FACTORIES ● STRUCTURE, FUNCTION & DYNAMICS

Registration deadline December 1st, 2023

GCS 2023 Statistics & Feedback (coming soon)
Contact us at gcs.org@cnr.it

KEYNOTE SPEAKERS
Peter Ralph, Professor of Marine Biology, University of Technology, Sydney, Australia
Roberta Croce, Professor of Biophysics and Photosynthesis, Vrije Universiteit Amsterdam, The Netherlands

The international conference Green Christmas Session "Photosynthetic Microorganisms for Sustainable Development" focuses on harnessing the potential of photosynthetic microorganisms to drive and advance sustainable development in our society. This annual event, envisioned as a series of interactive online meetings, aims to explore the possibilities of utilizing photosynthetic microorganisms for various applications..
The upcoming third edition of the GCS conference will highlight the benefits of exploiting photosynthetic processes and structures in various areas, including the production of green energy and high-value compounds, nutrient recovery and waste management. The conference will also showcase a wide range of imaging and spectroscopy techniques to provide valuable and in-depth insights into the intricate aspects of photosynthetic reactions and their regulation.
GREEN CHRISTMAS SESSION 2023 TOPICS:
Photosynthetic Factories
Structure, Function & Dynamics of Photosynthetic Components
Participants can expect to gain a deep understanding of the potential of photosynthetic microorganisms to address key environmental and sustainability challenges, and to explore novel approaches and technologies that elucidate the molecular mechanisms underlying photosynthetic processes.
Join us for this international online meeting that will provide an informal setting to network with friends and colleagues while delving into the latest developments and trends in bio-based applications that make use of photosynthetic microorganisms and photosynthetic components.
The conference has been designed in line with the EU's Open Science policy, which seeks to create a more welcoming, inclusive, and transparent scientific environment where collaboration thrives. We believe in making knowledge accessible to all, so participation is free upon registration (which is mandatory, but easy!). Join us for an inspiring and enriching experience!
The Institute for Biological Systems, ISB-CNR will virtually host the conference.

SCIENTIFIC COMMITTEE
CHAIR: Maya Dimova Lambreva
Institute for Biological Systems, National Research Council, Rome, Italy
CO-CHAIR: Giorgio Perin
University of Padova, Padova, Italy
Kyle Lauersen
King Abdullah University of Science and Technology, Saudi Arabia
Alberto Mezzetti
Sorbonne University, Paris, France
Gert Schansker
Heinz Walz GmbH, Germany
Alessandro Alboresi
University of Padova, Padova, Italy
Francesca Italiano
Institute for chemical and physical processes, National Research Council, Bari, Italy

ORGANIZING COMMITTEE
Alessandro Tozzi
Institute for Biological Systems, National Research Council, Rome, Italy
Annalisa Masi
Institute of Crystallography, National Research Council, Rome, Italy
Carmelo Cannarella
Institute for Biological Systems, National Research Council, Rome, Italy
Giorgio Giardini
Institute for Biological Systems, National Research Council, Rome, Italy
Giovanni Mele
Institute for Biological Systems, National Research Council, Rome, Italy
Lorenzo Pin
Institute for Biological Systems, National Research Council, Rome, Italy


UNDER THE PATRONAGE OF