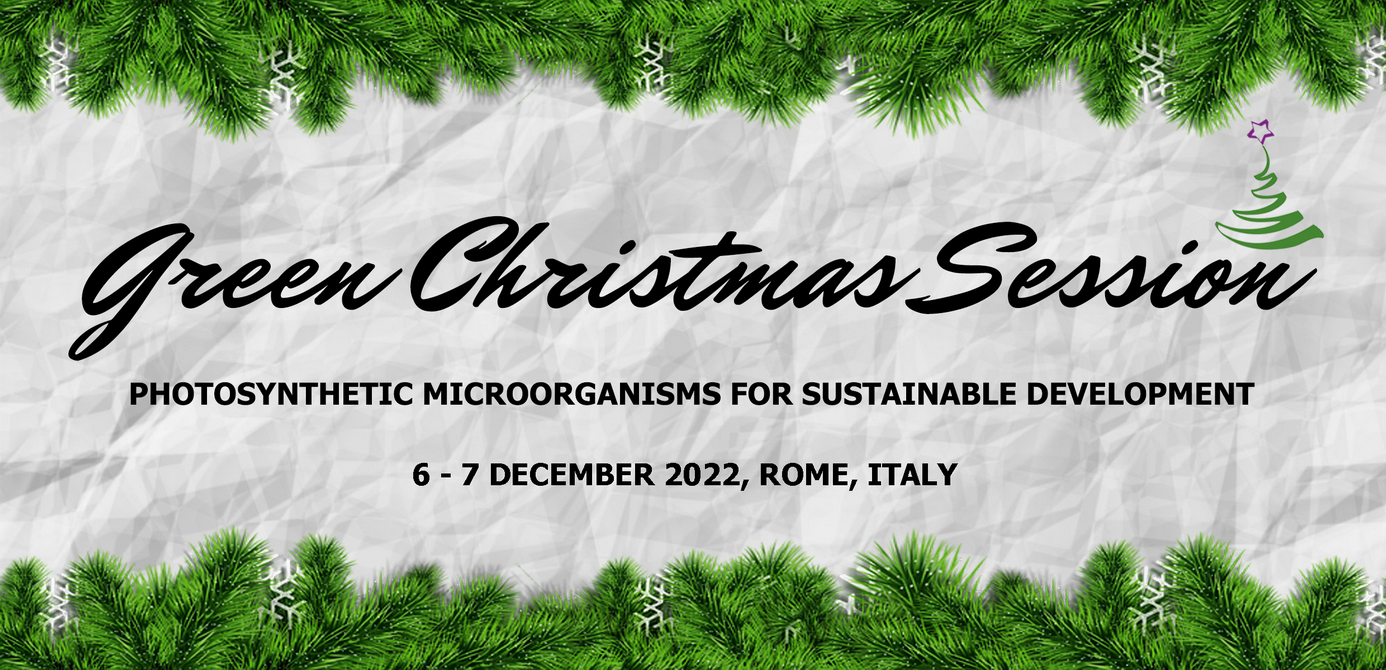 ONLINE CONFERENCE | FREE REGISTRATION

TUE Dec 6th 9:00 – 13:45 (CET) | WED Dec 7th 9:00 – 13:45 (CET)
SELECTED PRESENTATIONS OF LEADING EUROPEAN SCHOLARS
TOPICS: ● GREEN FACTORIES ● SUSTAINABILITY&ENVIRONMENT
Registration deadline December 1st, 2022

GCS 2022 Statistics & Feedback
Contact us at gcs.org@cnr.it

KEYNOTE SPEAKERS
Yagut Allahverdiyeva-Rinne, Professor of Basic and Applied Photosynthesis at the University of Turku, Finland
Michael R. Jones, Professor of Biochemistry at the University of Bristol, UK
The international conference Green Christmas Session "Photosynthetic microorganisms for sustainable development" is focused on the potential of photosynthetic microorganisms to build up and promote the sustainable development of our society.
The Green Christmas Session has been thought of as a series of interactive online meetings to be organized on an annual basis. The first edition of GCS was held on December 16-17, 2021 and presented innovative strategies for the use of photosynthetic microorganisms in the production of green energy and compounds with high-added value, in space research and environmental protection. The scientific community judged very positively and with enthusiasm the topics and the organization of the conference.
The GCS 2021 brought together more than 100 scholars affiliated with 49 different organizations from 16 countries in Europe, Asia, and Nord America.
This second edition of the GCS conference will highlight the advantages of employing photosynthetic processes and structures in solar energy conversion, production of green energy and high-added value compounds, waste management and environmental protection.
GREEN CHRISTMAS SESSION 2022 TOPICS:
Green factories
Environment and sustainability
This international virtual gathering will provide an informal occasion to spend some valuable time with friends and fellows discussing the latest trends and advancements in the development of bio-based applications employing photosynthetic microorganisms or photosynthetic elements.
The conference will be virtually hosted by the Institute for Biological Systems, ISB-CNR.
Participation is free upon registration (mandatory).

SCIENTIFIC COMMITTEE
CHAIR: Maya Dimova Lambreva
Institute for Biological Systems, National Research Council, Rome, Italy
Francesco Milano
Institute of Sciences of Food Production, National Research Council, Lecce, Italy
Giorgio Perin
University of Padova, Padova, Italy
Alexandra Dubini
University of Córdoba, Córdoba, Spain
Joanna Kargul
University of Warsaw, Poland
Nicolas Plumere
Campus for Biotechnology and Sustainability, Straubing, Germany
Francesca Italiano
Institute for chemical and physical processes, National Research Council, Bari, Italy

ORGANIZING COMMITTEE
Alessandro Tozzi
Institute for Biological Systems, National Research Council, Rome, Italy
Giorgio Giardini
Institute for Biological Systems, National Research Council, Rome, Italy
Giovanni Mele
Institute for Biological Systems, National Research Council, Rome, Italy
Stefano Tardiola
Institute for Biological Systems, National Research Council, Rome, Italy


UNDER THE PATRONAGE OF